Online purchase of VORTex
Use this page to order the CD-ROM PC version of VORTex is sold with a single user licence.
Note that flying schools or maintenance training schools who require instructional use should refer to the site licence for VOR Trainer within licence options.
For multiple orders, contact us for details on discounts or take a look at the licence options.
Each CD-ROM now costs only £19.95 (rrp £29.95). Handling and postage to any address in the world is FREE.
.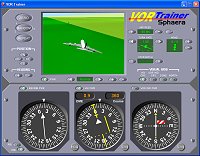 Understand VOR with VOR Trainer and VORTex