BAe 146 CBT
Sphaera has successfully designed and delivered CBT courseware for the BAe 146.
This includes development of recurrent training for flight crew covering 27 systems and complete vector-based cockpit graphics.
Contact us for additional information on the development of type rating, recurrent training or cockpit graphics for any aircraft type.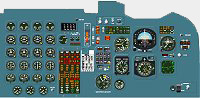 BAe 146 cockpit graphics for CBT.
.