What's in the lesson?
This training material provides an overview of the CRJ200 hydraulic system at a high enough level to be useful to both flight crew and student maintenance engineers. Through a series of 33 clear and easy to understand images students will quickly acquire all the essential knowledge to describe the purpose and function of the 3 hydraulic systems, their normal sources of power, back-up supplies, distribution and their associated cockpit controls and EICAS indications.
Who Should Use It?
This training material is aimed at aviation training colleges teaching EASA Part 66 Modules 11 and 13 who wish to provide students with a clear and easy to understand overview of an example hydraulic system from a regional jet airliner.
The material may also be suitable for CRJ200 operators as a high-level overview for flight crew, but is not detailed enough for recurrent training or for type rating. However, we are happy to work with interested aircraft operators to extend and contextualise the content to suit any specific requirements.
.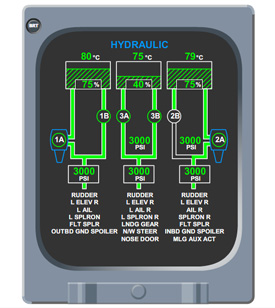 CRJ200 EICAS Hydraulic Page