As an example, interactive electrical systems such as the one shown on the right can be built-up as a series of easy to understand steps, allowing the instructor to explain the function of each component as it is introduced.
Circuits can be provided with or without automatic signal tracing.
To aid the students' understanding, components such as busbars, mechanical switches, relays, motors and circuit breakers are all interactive (can be operated by clicking with the mouse).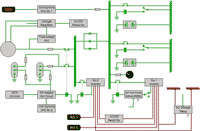 Hawk 100 series electrical system.