All instruments are supplemented with interactive schematic diagrams showing barometric systems, altitude alert systems, pitot static and dynamic pressure, Desynn (synchro) transmitters, tachometer systems, pulse probe systems, thermocouples and more.
Where appropraite, the use of 3D represents the real world situation or aids with component location.
These and other products can be purchased online now by visiting our product listings at:
For more information, contact us.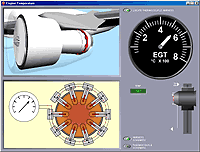 An interactive EGT (Exhaust Gas Temperature) gauge and thermocouple harness.