The user has full control over the flap position via a flap postion lever and can observe the mechanical and electrical operation of the Desynn (synchro) system through the entire flap movement.
For example, if the user slides the flap control lever, then:
The flaps can be seen moving on the 3D model of the aircraft
The schematic diagram will show current flow and voltages between the transmitter and indicator
The gauge will indicate the changing flap position

This product can be purchased as part of an aircraft instrumentation package which also includes:
Purchase this product online now by visiting our products list or, for more information, contact us.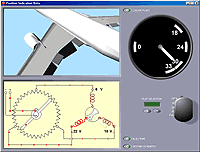 An interactive flap position indicator with Desynn transmitter (synchronous data transmitter or synchro).