The location of the components on the aircraft may be identified by using an animated 3D sequence that zooms in and fades out obstructing layers to highlight the applicable components beneath.
This product can be purchased as part of an aircraft instrumentation package which also includes:
Purchase this product online now by visiting our products list or, for more information, contact us.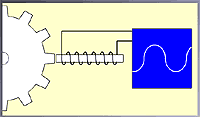 Animated operation of a phonic wheel.