The user has full control over the fuel level and the bank angle of the aircraft. This enables demonstration or observation of not only the normal operation of each system but also the effects of aircraft attitude on each system.
This product can be purchased as part of an aircraft instrumentation package which also includes:
Purchase this product online now by visiting our products list or, for more information, contact us.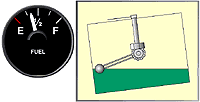 A simple system using float actuated contents gauging.