VOR Trainer and VORTex
VOR Trainer and VORTex are used by pilot training schools and aerospace maintenance training colleges and is now in use in 15 countries around the world.
Both are user friendly, 'click-and-go' programs that enable the students to really understand VOR and quickly gain familiarisation with various forms of VOR or ADF display. Pilots can then go on to extend beyond VFR flying by practising and perfecting their homing, radial tracking and holding patterns around VOR or non-directional beacons.
This product is available for licensed use by training organisations or for single-user home use. For more information see our licensing options below.
If you want to try before you buy, an evaluation version of VORTex is available for download by clicking here.
.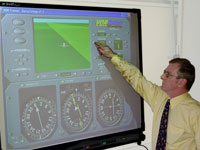 VOR Trainer in use via a SMART Board within the ICAT (International Centre for Aerospace Training), South Wales.