With a fully interactive gyroscope and model of the Earth, students can quickly understand the principles of rigidity, real wander, transport wander and apparent wander.
The interface provides instructors with total control of gyroscope spin, gyroscope lateral movement, gyroscope longitudinal movement and Earth rotation. The gyroscope may be viewed from space or from the Earth.
Additional features include, automatic alignment (vertical, local vertical and local north), manual alignment, geocentric camera lock and ground position indication.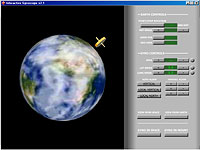 Rigidity and various types of wander can be easily demonstrated.