CBLS (Carrier, bomb, light stores).
The CBLS enables military aircraft to carry up to 4 light stores (or practice bombs) on each weapon station. The use of practice bombs in place of operational weapons significantly reduces the costs and risks during aircrew weapons training.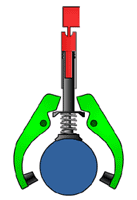 Explosive release of a practice bomb from an ERU 122.
Sphaera's interactive CBLS, which can be delivered on CD-ROM or via the web, is a classroom training aid that can be used to demonstrate safety features, flightline maintenance and loading procedures associated with this equipment.
Also included is an animated sequence that clearly demonstrates the operation of the ERU 122.
The interactive CBLS can be purchased online now by visiting our products list or for more information contact us.