ERU (Ejector Release Unit) No 119 Mk 4.
Ejector Release Units (ERU) are installed in aircraft pylons and are used for the carriage and release of external stores such as bombs and fuel tanks.
Each ERU can be fitted with explosive cartridges which are electrically initiated when commanded by the pilot. Initiation results in an expansion of explosive gases which unlock the ERU jaws (releasing the store) and extend a pair of pistons (pushing the store clear of the aircraft).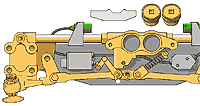 Sphaera's fully interactive ERU, which can be delivered on CD-ROM or via the web, is a classroom training aid that enables instructors or students to explore the ERU by removing components by clicking with the mouse.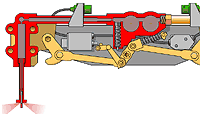 Observe ERU operation with fully controllable animation.
Fully controllable animation enables instructors or students to repeatedly observe manual or automatic operation. Students therefore quickly and easily gain familiarisation of the function of each of the components.
This CBT product can be purchased online now by visiting our products list or for more information contact us.