Our 3D interactive models allow users to gain a thorough understanding of where vital components are located and how assemblies, sub-assemblies and components fit together.
Animations, video or interactive 3D models can also be used to demonstrate maintenance procedures. Once again, the user controls the flow of information at a rate that suits them. The procedures can then be practised in complete safety until users are confident enough to be tested to ensure proficiency.
Animations and intelligent system diagrams can be used to demonstrate system operation under normal or faulted modes. Users can interact with controls to set up the system conditions and then view the operation under those conditions.
.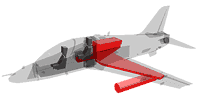 Hawk aircraft fuel system components in real-time 3D.