Automotive Training (Motor Vehicles)
Sphaera is a provider of high-quality CBT (computer based training) or elearning for use in technical training schools and engineering colleges.
As well as a range of readily available COTS automotive training products, we can provide an affordable bespoke CBT production service.
For more information on automotive CBT for motor vehicle training, click on the links below:
.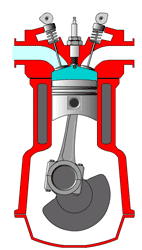 The compression stroke during the working cycle of a 4-stroke engine.